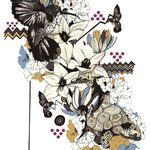 kerry mcveigh
Kerry is a surface pattern designer from the North West of England. She creates illustrative, bright, bold, young, energetic, versatile and trend driven digital prints. She is a skilled illustrator and hand draws everything in black and white, later layering her drawings and adding colour using Adobe Photoshop. Kerry is often inspired by graffiti and influenced by future fashion trends, resulting in vibrant trendy prints. For more information please feel free to contact me at kerry_mcveigh@hotmail.com or visit www.cargocollective.com/kerrymcveigh kerry mcveigh joined Society6 on August 31, 2011
More
Kerry is a surface pattern designer from the North West of England. She creates illustrative, bright, bold, young, energetic, versatile and trend driven digital prints. She is a skilled illustrator and hand draws everything in black and white, later layering her drawings and adding colour using Adobe Photoshop.
Kerry is often inspired by graffiti and influenced by future fashion trends, resulting in vibrant trendy prints.
For more information please feel free to contact me at kerry_mcveigh@hotmail.com or visit www.cargocollective.com/kerrymcveigh
kerry mcveigh joined Society6 on August 31, 2011.
Phone Skins by kerry mcveigh
3 result
Filter