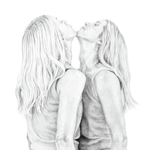 kevans_art
ARTIST STATEMENT At first glance the women in my work may appear meek and docile, lying lifeless or staring blankly into space. The seemingly submissive poses they hold become performances of endurance as they firmly resist their environment. They are immersed within themselves, possessing a quiet, reserved power. ABOUT KATIE Katie was raised in the sunshine state, a magical place she hopes to always call home. She graduated from Flagler College in the fall of 2015 with a BFA in Fine Art and a BA in Graphic Design. After school she continued working at a design studio in the area. When she's not making art she enjoys practicing yoga, exploring Florida's state parks, and thrifting for objects that will inspire her next drawing. Karaoke, wine, and petting cats are of great importance to her. To stay up to date with Katie's latest drawings and see work in progress, follow her on instagram: @kevans_art kevans_art joined Society6 on November 17, 2016
More
ARTIST STATEMENT At first glance the women in my work may appear meek and docile, lying lifeless or staring blankly into space. The seemingly submissive poses they hold become performances of endurance as they firmly resist their environment. They are immersed within themselves, possessing a quiet, reserved power.
ABOUT KATIE Katie was raised in the sunshine state, a magical place she hopes to always call home. She graduated from Flagler College in the fall of 2015 with a BFA in Fine Art and a BA in Graphic Design. After school she continued working at a design studio in the area. When she's not making art she enjoys practicing yoga, exploring Florida's state parks, and thrifting for objects that will inspire her next drawing. Karaoke, wine, and petting cats are of great importance to her. To stay up to date with Katie's latest drawings and see work in progress, follow her on instagram: @kevans_art
kevans_art joined Society6 on November 17, 2016.