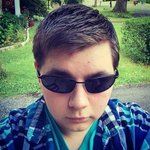 Kevin Kidwell
I am a graduate of West Liberty University with a B.S. degree in Graphic Design and currently studying for an MFA in Web Design & New Media at Academy of Art University. My life revolves around design and this is my personal philosophy of it: Design is a way of life, and one that takes a lot of time to pursue to its fullest extent. I love using simplicity in my designs while showing the focus of the piece as a whole. Inspiration is all around just waiting to be found. Kevin Kidwell joined Society6 on February 13, 2013
More
I am a graduate of West Liberty University with a B.S. degree in Graphic Design and currently studying for an MFA in Web Design & New Media at Academy of Art University. My life revolves around design and this is my personal philosophy of it:
Design is a way of life, and one that takes a lot of time to pursue to its fullest extent. I love using simplicity in my designs while showing the focus of the piece as a whole. Inspiration is all around just waiting to be found.
Kevin Kidwell joined Society6 on February 13, 2013.