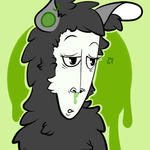 KibaMonster
HELLO! My name is MacKenzie and I'm a digital artist/ dog and snake mom/ professional derp/ Shark lover from Raleigh NC, here to share all the art that I can with you guys! ENJOY! I also do commission work, feel free to shoot me an e-mail at... LittleFluffBallDraws@gmail.com KibaMonster joined Society6 on August 10, 2015
More
HELLO! My name is MacKenzie and I'm a digital artist/ dog and snake mom/ professional derp/ Shark lover from Raleigh NC, here to share all the art that I can with you guys! ENJOY!
I also do commission work, feel free to shoot me an e-mail at... LittleFluffBallDraws@gmail.com
KibaMonster joined Society6 on August 10, 2015.