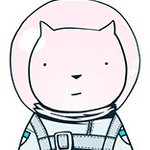 K.Riesco
I'm a Peruvian artist and designer. I make most of my illustration work mixing traditional and digital media. In my work, I try to be as synthetic as possible, trying to maintain a certain emotional load, exploring formats and possibilities without departing much from the visual. Naif, melancholy and time are recurring tools in what I do. K.Riesco joined Society6 on October 1, 2015
More
I'm a Peruvian artist and designer. I make most of my illustration work mixing traditional and digital media.
In my work, I try to be as synthetic as possible, trying to maintain a certain emotional load, exploring formats and possibilities without departing much from the visual. Naif, melancholy and time are recurring tools in what I do.
K.Riesco joined Society6 on October 1, 2015.
Popular by K.Riesco
32 results
Filter