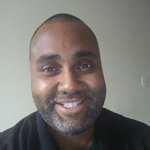 Kilo Harrison
I am an artist, currently specializing in comic book style illustration. I work in in the city of Suitland, Md, When I was young, it was always my dream to work in the comic book industry, but that dream faded sometime after high school. I could never explain it. I just stopped creating. For years, family and friends pushed me to return to it, but I had lost all interest. I the last 3 years or so, I have rediscovered that old feeling. The creating joy of ART! I've been drawing something everyday, it seems. I draw on lunch breaks at work, on my phone when I'm out, or on napkins and tray liners when I eat out. Any scrap of paper will do. I'm once again, driven to draw. My skills continue to advance, as I work to improve different aspects in my artwork. I am offering some finished works, in an effort to help subsidize my efforts. Slowly, but surely, I will be adding more creations. I look forward to filling my shop with beautiful art. Kilo Harrison joined Society6 on September 17, 2016
More
I am an artist, currently specializing in comic book style illustration. I work in in the city of Suitland, Md, When I was young, it was always my dream to work in the comic book industry, but that dream faded sometime after high school. I could never explain it. I just stopped creating. For years, family and friends pushed me to return to it, but I had lost all interest.
I the last 3 years or so, I have rediscovered that old feeling. The creating joy of ART! I've been drawing something everyday, it seems. I draw on lunch breaks at work, on my phone when I'm out, or on napkins and tray liners when I eat out. Any scrap of paper will do. I'm once again, driven to draw. My skills continue to advance, as I work to improve different aspects in my artwork.
I am offering some finished works, in an effort to help subsidize my efforts. Slowly, but surely, I will be adding more creations. I look forward to filling my shop with beautiful art.
Kilo Harrison joined Society6 on September 17, 2016.