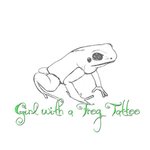 Kimberly Sulzer-Girlwithafrogtattoo
I am a stay at home mom, and Poison Dart frog lover. I also very much enjoy photography, and crafting with polymer clay. I have been taking photos of my frogs over the past couple of years, and will be posting the best ones here for others to be able to purchase! I currently have 5 vivariums set up, and am housing and breeding 4 species of dart frogs. Dendrobates Azureus, Dendrobates Leucomelas, Ranitomeya Imitator, Phyllobates Terribilis "Mint". http://www.etsy.com/shop/Dreamcatcer98sArt Kimberly Sulzer-Girlwithafrogtattoo joined Society6 on July 2, 2012
More
I am a stay at home mom, and Poison Dart frog lover. I also very much enjoy photography, and crafting with polymer clay. I have been taking photos of my frogs over the past couple of years, and will be posting the best ones here for others to be able to purchase! I currently have 5 vivariums set up, and am housing and breeding 4 species of dart frogs. Dendrobates Azureus, Dendrobates Leucomelas, Ranitomeya Imitator, Phyllobates Terribilis "Mint".
http://www.etsy.com/shop/Dreamcatcer98sArt
Kimberly Sulzer-Girlwithafrogtattoo joined Society6 on July 2, 2012.