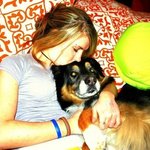 Kim Ramage
Hey Everyone! Thanks so much for checking out my profile! I absolutely love photography and carry a camera everwhere I go. I've been blessed living in Montana most of my life so I have had a LOT of inspiration when it comes to beautiful landscapes and such. I've recently moved to California, and I must say, I can't complain much about this place either! I have had the privelage of traveling to many places, meeting wonderful people, and experiencing some of the most amazing and beautiful creations on God's great earth. Even walking down the street can inspire me! So, please enjoy my photos and feel free to share with your friends! Cheers! Kim Ramage joined Society6 on June 2, 2011
More
Hey Everyone! Thanks so much for checking out my profile! I absolutely love photography and carry a camera everwhere I go. I've been blessed living in Montana most of my life so I have had a LOT of inspiration when it comes to beautiful landscapes and such.
I've recently moved to California, and I must say, I can't complain much about this place either! I have had the privelage of traveling to many places, meeting wonderful people, and experiencing some of the most amazing and beautiful creations on God's great earth. Even walking down the street can inspire me! So, please enjoy my photos and feel free to share with your friends! Cheers!
Kim Ramage joined Society6 on June 2, 2011.