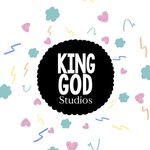 KingGod Studios
I am an independent illustrator, 90's kido and I like random, goofy pastel and happy things. bring your friends your grandma, it doesn't matter, happy art for happy people everyone :) may God bless all of you. -Pam Pamela you may find me on instagram with the hashtag #KingGodStudios and on facebook as : www.facebook.com/KINGDOMstudiosPPL KingGod Studios joined Society6 on January 14, 2016
More
I am an independent illustrator, 90's kido and I like random, goofy pastel and happy things. bring your friends your grandma, it doesn't matter, happy art for happy people everyone :) may God bless all of you.
-Pam Pamela
you may find me on instagram with the hashtag #KingGodStudios and on facebook as : www.facebook.com/KINGDOMstudiosPPL
KingGod Studios joined Society6 on January 14, 2016.