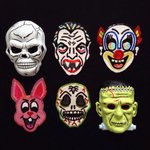 King Sophie's World
Sophie designs and hand embroiders meticulously detailed sequin and thread patches, inspired by the macabre, the surreal and the subversive. Her work has been featured on sites such as Buzzfeed and Mashable, and in Magazines such as Nylon, Vogue, Lucky and Ballad Of. Check out her instagram for more updates on her world: @kingsophiesworld King Sophie's World joined Society6 on November 8, 2014
More
Sophie designs and hand embroiders meticulously detailed sequin and thread patches, inspired by the macabre, the surreal and the subversive.
Her work has been featured on sites such as Buzzfeed and Mashable, and in Magazines such as Nylon, Vogue, Lucky and Ballad Of.
Check out her instagram for more updates on her world: @kingsophiesworld
King Sophie's World joined Society6 on November 8, 2014.