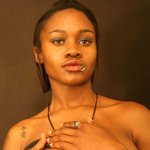 Adana Washington
She was born on a nice summer night in Houston, Texas, as a birthday present to her mother. She's a Leo/Moon Cat/Rabbit, with a Chariot Life Path card. She's left-handed, right-brained, and near-sighted. When she's not drawing , writing or coding, she can be found in a bath tub with a book, or watching the anime or the History Channel while drinking milk stout. If you catch her on a good day, she could even be spotted baking cookies. Tea cakes, to be exact. Adana Washington joined Society6 on April 11, 2013
More
She was born on a nice summer night in Houston, Texas, as a birthday present to her mother. She's a Leo/Moon Cat/Rabbit, with a Chariot Life Path card. She's left-handed, right-brained, and near-sighted.
When she's not drawing , writing or coding, she can be found in a bath tub with a book, or watching the anime or the History Channel while drinking milk stout. If you catch her on a good day, she could even be spotted baking cookies. Tea cakes, to be exact.
Adana Washington joined Society6 on April 11, 2013.
Adana Washington's Store
3 results
Filter