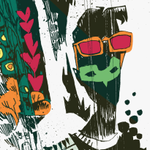 Kirby Krackle
My name is Kirby Krackle, and I am a nerd-rock artist from Seattle who writes songs about the best in comic book culture, weird, and embracing your inner superhero.
Please enjoy my products seen here and taken from my album art and promotional images throughout my career, and many from the brilliant artistic mind of Jim Mahfood.
Thank you for listening, and looking!
Read more
Kirby Krackle's Store
Filter