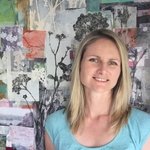 Kirily Taylor
Kirily Taylor is a printmaker and collage artist from Auckland, New Zealand. Kirily spent her childhood growing up in Melbourne, Australia. It was here where she fell in love with anything to do with art and creativity. She was quite happy to spend many hours drawing and painting getting lost in her own imagination. So it was only natural that her career was going to lead her onto a creative path. Kirily trained as a graphic designer and over a span of 12 years she worked in advertising, magazine, brand identity and corporate design. It was during this time she also spent four years as a freelance designer in London, but a few years ago, Kirily decided it was time to pursue her dream of becoming an artist. Kirily explored different mediums of art before settling with print making and collage. Soon she developed her style that you can view today. Her artworks are created from her own photography and original prints. 'Nature' is her current under-lying theme explored throughout her artwork. The observations she records of the natural environment; colours, shapes and the intricacies of patterns are incorporated into her collages. You can follow Kirily on the these social media sites: www.kirily-taylor.com https://www.facebook.com/KirilyTaylorArtist https://instagram.com/kirilytaylor Kirily Taylor joined Society6 on October 5, 2014
More
Kirily Taylor is a printmaker and collage artist from Auckland, New Zealand. Kirily spent her childhood growing up in Melbourne, Australia. It was here where she fell in love with anything to do with art and creativity. She was quite happy to spend many hours drawing and painting getting lost in her own imagination. So it was only natural that her career was going to lead her onto a creative path. Kirily trained as a graphic designer and over a span of 12 years she worked in advertising, magazine, brand identity and corporate design. It was during this time she also spent four years as a freelance designer in London, but a few years ago, Kirily decided it was time to pursue her dream of becoming an artist.
Kirily explored different mediums of art before settling with print making and collage. Soon she developed her style that you can view today. Her artworks are created from her own photography and original prints. 'Nature' is her current under-lying theme explored throughout her artwork. The observations she records of the natural environment; colours, shapes and the intricacies of patterns are incorporated into her collages.
You can follow Kirily on the these social media sites: www.kirily-taylor.com https://www.facebook.com/KirilyTaylorArtist https://instagram.com/kirilytaylor
Kirily Taylor joined Society6 on October 5, 2014.
Kirily Taylor's Store
21 results
Filter