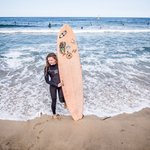 kirstygemma
I am a British photographer, with no fixed abode. In the last few years I have lived in the UK, South Korea, and the United States. Next up: New Zealand. Snowboarding dragged me out into the mountains, and so my love affair with nature began. On my travels, and in my life abroad and at home, I took photographs of things that caught my eye. As my love of photography developed, so did my relationship with the world around me. The more I photograph, the more I see… even when I don't have my camera with me. I hope that my photography inspires those who see it to notice the beauty that surrounds us all. kirstygemma joined Society6 on January 26, 2016
More
I am a British photographer, with no fixed abode. In the last few years I have lived in the UK, South Korea, and the United States. Next up: New Zealand.
Snowboarding dragged me out into the mountains, and so my love affair with nature began.
On my travels, and in my life abroad and at home, I took photographs of things that caught my eye. As my love of photography developed, so did my relationship with the world around me. The more I photograph, the more I see… even when I don't have my camera with me. I hope that my photography inspires those who see it to notice the beauty that surrounds us all.
kirstygemma joined Society6 on January 26, 2016.