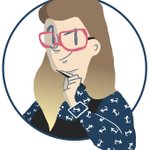 Kirsty Saunders Illustration
I am a nerdy, tea loving, cat thinking, Illustrator and Graphic Designer with 2+ years in-house and agency experience, plus a BA (hons) in Illustration. Specialising in illustration, I enjoy adding unique and personalised elements to digital and printed design briefs. If you wish to learn more about me and my work, please feel free to message me and visit my social media blogs below: behance.net/KSillustration instagram.com/kirstysaundersillustration/ www.facebook.com/KirstySaundersIllustration/ Kirsty Saunders Illustration joined Society6 on November 11, 2013
More
I am a nerdy, tea loving, cat thinking, Illustrator and Graphic Designer with 2+ years in-house and agency experience, plus a BA (hons) in Illustration. Specialising in illustration, I enjoy adding unique and personalised elements to digital and printed design briefs.
If you wish to learn more about me and my work, please feel free to message me and visit my social media blogs below:
behance.net/KSillustration instagram.com/kirstysaundersillustration/ www.facebook.com/KirstySaundersIllustration/
Kirsty Saunders Illustration joined Society6 on November 11, 2013.