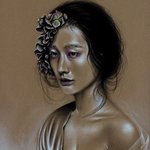 Kirthana's Art
About Kirthana's Art
I always knew I loved to draw and paint, at a very young age I would win modest school prizes, being so young it was all very exciting and new but I didn't quite appreciate what it all meant.
Throughout the years I started to find I was taking a departure from drawing and trying to find myself in other areas. It was only in those trying final years of my teens after I received a sketch pad and pencil set as a gift when I truly started practising the style of portraiture and had such an amazing love for it, it was in a way cathartic.
I adore working with dry mediums like graphite, charcoal and especially Conte crayon. The challenge of creating wet textures with a dry medium is so exhilarating
I am constantly watching and observing all that I see, looking at textures and thinking of how I can replicate them, watching the light hit surfaces and how they behave. I am very much drawn to light and texture, I find those two things so very beautiful and so very overlooked. I am also fascinated by human nature, our pain our manipulation our joy, sometimes the darkest parts of us, the parts hidden are all that I find myself wanting to expose
Kirthana's Art joined Society6 on May 18, 2013.