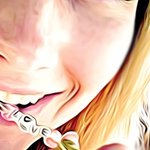 kitaSaurus
I'm Kita! And I'm a "stay-and-work-and-play-at-home" mom, digital artist, student, and crafter from Santa Cruz, California. For my artwork, I utilize a combination of tools and techniques, including photography and photo alteration, freehand painting with a Wacom Intuos4 tablet, filter and action rendering, and some non-digital media (you name it, I've used it). kitaSaurus joined Society6 on February 1, 2013
More
I'm Kita! And I'm a "stay-and-work-and-play-at-home" mom, digital artist, student, and crafter from Santa Cruz, California.
For my artwork, I utilize a combination of tools and techniques, including photography and photo alteration, freehand painting with a Wacom Intuos4 tablet, filter and action rendering, and some non-digital media (you name it, I've used it).
kitaSaurus joined Society6 on February 1, 2013.
Stationery by kitaSaurus
13 results
Filter
Department

Dept

Stickers & Stationery