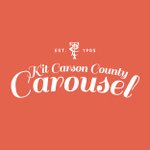 Kit Carson County Carousel
Of the nearly 4000 wooden carousels carved in America between 1885 and the 1930s, fewer than 150 are still in existence. One of the finest survivors, however, can be found on the county fairgrounds in Burlington, Colorado.
The sixth of 74 carousels manufactured by the Philadelphia Toboggan Company (PTC) between 1904 and 1933, the Kit Carson County Carousel is a three-row, stationary (the animals do not move up and down) machine housed in a 12-sided frame building. It is the only antique carousel in America still having original paint on both the scenery panels and on the animals, and PTC No. 6 is the only surviving menagerie (having other animals in addition to horses) carousel made by PTC. And it's fully operational
In addition to the carousel, The Kit Carson County Carousel Museum is also open! The museum interprets the Carousel, its restoration, the Philadelphia Toboggan Company and the Wurltizer Monster Military Band Organ.
http://www.kitcarsoncountycarousel.com/
Read more
Kit Carson County Carousel's Store
Filter