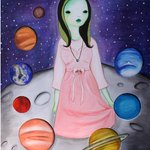 Emma Maree Sullivan
I'm a Melbourne born 24 year old and a recent Bachelor of Visual Art graduate living and working in Adelaide, South Australia. I'm a painter who loves illustration, zines, badges, and most importantly cats! See more work at: Flickr: flickr.com/photos/kittenlimbs Facebook: facebook.com/emmamareesullivanart Tumblr: emmamareesullivan.tumbr.com Instagram: instagram.com/kitten_limbs/ Emma Maree Sullivan joined Society6 on November 30, 2013
More
I'm a Melbourne born 24 year old and a recent Bachelor of Visual Art graduate living and working in Adelaide, South Australia. I'm a painter who loves illustration, zines, badges, and most importantly cats!
See more work at: Flickr: flickr.com/photos/kittenlimbs Facebook: facebook.com/emmamareesullivanart Tumblr: emmamareesullivan.tumbr.com Instagram: instagram.com/kitten_limbs/
Emma Maree Sullivan joined Society6 on November 30, 2013.
Emma Maree Sullivan's Store
55 results
Filter