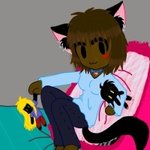 tabby
I'm an artist that loves to draw and make dolls,cosplay,and comics.I hopes that people everywhere well love my art. there my own series/fanart.!! this is my first putting my work out. so i hope you all like it!! http://tapastic.com/series/Conflicted-sins - comic http://conflicted-sins-aph.tumblr.com/ http://kitty-channya.deviantart.com/ tabby joined Society6 on November 17, 2015
More
I'm an artist that loves to draw and make dolls,cosplay,and comics.I hopes that people everywhere well love my art. there my own series/fanart.!! this is my first putting my work out. so i hope you all like it!!
http://tapastic.com/series/Conflicted-sins - comic
http://conflicted-sins-aph.tumblr.com/
http://kitty-channya.deviantart.com/
tabby joined Society6 on November 17, 2015.