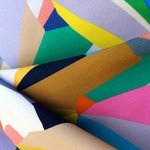 kitty mccall
Hello there! I'm a freelance textile print designer based in the UK, I create original artwork and homewares with a contemporary twist. I am available for commissions and licensing feel free to contact me here: studio@kittymccall.com Keep updated with my work here ( sneak peeks! vouchers!: https://www.facebook.com/pages/Kitty-McCall/169050309779998 Online Shop (Limited Edition art prints, cushions and Fabrics): www.kittymccall.com Pinterest: http://www.pinterest.com/kittymccall/ Twitter: https://twitter.com/kittymccall Instagram: http://instagram.com/kittymccall kitty mccall joined Society6 on January 20, 2013
More
Hello there! I'm a freelance textile print designer based in the UK, I create original artwork and homewares with a contemporary twist.
I am available for commissions and licensing feel free to contact me here: studio@kittymccall.com
Keep updated with my work here ( sneak peeks! vouchers!: https://www.facebook.com/pages/Kitty-McCall/169050309779998
Online Shop (Limited Edition art prints, cushions and Fabrics): www.kittymccall.com
Pinterest: http://www.pinterest.com/kittymccall/
Twitter: https://twitter.com/kittymccall
Instagram: http://instagram.com/kittymccall
kitty mccall joined Society6 on January 20, 2013.
Popular by kitty mccall
45 results
Filter