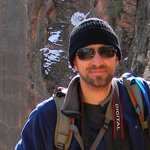 Aaron Kittredge
Aaron is a Social Worker, musician, photographer, and artist from the Detroit area. He is an experienced School Social Worker and created and runs the popular behavior management website, PBISWorld.com. He holds a Bachelor of Social Work from Wayne State University in Detroit and a Masters of Social Work from the University of Michigan in Ann Arbor, MI. When not busy running and maintaining PBISWorld.com, Aaron is actively involved in the arts. He is a professional musician (violin and guitar), playing for special events, occasions, and studio recording. He has also dabbled in audio recording and performed, recorded, and produced the soundtrack for a small indepedent film as well as an independent album. Aaron is active in web/graphic design as well. He runs www.TheStudio.red, the commercial front for his web/graphic design work and clientele. He also sells his artwork and photography through TheStudio.red He enjoys large format landscape photography and has an exensive portfolio of amazing images of the American Southwest (Utah, Arizona, Nevada, California, New Mexico, Texas). Utah is his favorite place for landscape photography. The fine arts are also a passion for him. He loves creating classic and abstract pieces through the medium of charcoal. Aaron has included a small collection of prints of some of his favorite works among his photography offerings. Aaron has worked in and dabbled in many main areas of the fine arts, but he aspires to bring all of this experience together in film eventually. This is the one last major area he has yet to delve in to. For now he's just looking forward to his next adventure into the Southwest wilderness. Aaron Kittredge joined Society6 on January 24, 2015
More
Aaron is a Social Worker, musician, photographer, and artist from the Detroit area. He is an experienced School Social Worker and created and runs the popular behavior management website, PBISWorld.com. He holds a Bachelor of Social Work from Wayne State University in Detroit and a Masters of Social Work from the University of Michigan in Ann Arbor, MI.
When not busy running and maintaining PBISWorld.com, Aaron is actively involved in the arts. He is a professional musician (violin and guitar), playing for special events, occasions, and studio recording. He has also dabbled in audio recording and performed, recorded, and produced the soundtrack for a small indepedent film as well as an independent album.
Aaron is active in web/graphic design as well. He runs www.TheStudio.red, the commercial front for his web/graphic design work and clientele. He also sells his artwork and photography through TheStudio.red
He enjoys large format landscape photography and has an exensive portfolio of amazing images of the American Southwest (Utah, Arizona, Nevada, California, New Mexico, Texas). Utah is his favorite place for landscape photography.
The fine arts are also a passion for him. He loves creating classic and abstract pieces through the medium of charcoal. Aaron has included a small collection of prints of some of his favorite works among his photography offerings.
Aaron has worked in and dabbled in many main areas of the fine arts, but he aspires to bring all of this experience together in film eventually. This is the one last major area he has yet to delve in to. For now he's just looking forward to his next adventure into the Southwest wilderness.
Aaron Kittredge joined Society6 on January 24, 2015.
Aaron Kittredge's Store
603 results
Filter