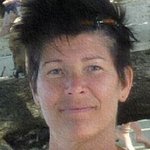 Kivicar
ArtKivicar Abstract Digital Art Print Presentation. Carina Kivistö a.k.a Kivicar Working, creating and editing photos In Photoshop - Illustrator. Making patterns - abstract - floral digital art from her own photos. Inspired By Nature. Carina Lives on the countryside of a small town, one and a half hour drive from the capital of Sweden. Self taught photographer and Photoshop - Illustrator user. Printing skills and understanding of printing learned from her partner. Enjoy my work. All the best Kivicar Kivicar joined Society6 on March 3, 2014
More
ArtKivicar Abstract Digital Art Print Presentation.
Carina Kivistö a.k.a Kivicar Working, creating and editing photos In Photoshop - Illustrator. Making patterns - abstract - floral digital art from her own photos. Inspired By Nature.
Carina Lives on the countryside of a small town, one and a half hour drive from the capital of Sweden.
Self taught photographer and Photoshop - Illustrator user. Printing skills and understanding of printing learned from her partner.
Enjoy my work. All the best Kivicar
Kivicar joined Society6 on March 3, 2014.
Kivicar's Store
90 results
Filter