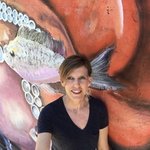 kjsouthernbelle
My current obsession is geometric shapes. I love the simplicity of a line and a simple line added to other lines creates some interesting art, in my opinion. While I mainly draw in black and white, I'm thinking 2018 is the year I add some color. All types of creativity interest me, interior design, painting, writing, photography and when I'm not creating I'm running around outside with my dog, Bronco. Based in Little Rock, AR You can find me here: https://www.facebook.com/katiesdesignstudio/ https://www.instagram.com/kjsouthernbelle/ A copyright mark is not on the work file used on this site, and the artist retains the copyright when the work is sold or otherwise transferred unless there is a written transfer of the copyright. © 2018 Katie Johnson kjsouthernbelle joined Society6 on October 19, 2017
More
My current obsession is geometric shapes. I love the simplicity of a line and a simple line added to other lines creates some interesting art, in my opinion. While I mainly draw in black and white, I'm thinking 2018 is the year I add some color.
All types of creativity interest me, interior design, painting, writing, photography and when I'm not creating I'm running around outside with my dog, Bronco. Based in Little Rock, AR
You can find me here: https://www.facebook.com/katiesdesignstudio/ https://www.instagram.com/kjsouthernbelle/
A copyright mark is not on the work file used on this site, and the artist retains the copyright when the work is sold or otherwise transferred unless there is a written transfer of the copyright. © 2018 Katie Johnson
kjsouthernbelle joined Society6 on October 19, 2017.