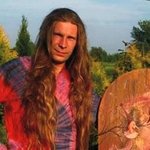 Krzysztof Lozowski
KRZYSZTOF SYLWESTER LOZOWSKI is a freelance artist currently living in Warsaw. He was born in Sosnowiec in 1970. After finishing the State School of Fine Arts in Katowice he attended the Art College in Bielsko-Biała, where he pursued studies in Film Animation. To further his training he earned a degree in Visual Arts from the Education Academy in Katowice. From 1993 on, he studied painting and drawing at the Silesian University, Fine Arts department, and graduated in 1998. He creates oil paintings, drawings, watercolors and posters. Among the artist's output there are also excellent cartoons of celebrities from the world of theater, music, politics and cabaret. His works have been presented in many individual and group exhibitions both in his country and abroad. In addition, his artworks can be found in private collections, for example in Germany, Great Britain, Switzerland, Norway, Belgium, Austria, France, Greece, the United States and Japan. He has been a member of the Association of Polish Artists since 2004. According to critics, Łozowski's art, his oeuvre, is expressive. He uses in it a variety of rich techniques and manifold views on the world around him, from existential and gloomy ones to caricatures full of humor. He himself states, though, that "My art is myself, it is my silence in solitude (…) that allows me to exist, to hear what is inaudible, to see what is invisible… It is the eternal struggle to answer the question 'Who am I?' The unending cycle of pictures with different titles that delicately or at times courageously touch our conscience, our truth about ourselves. But the closer we get to ourselves, our ego – the more difficult it becomes… The picture becomes a joy in which time does not exist, in which reality and dreams blur lines". An important benchmark, but at the same time a feature of Krzysztof Łozowski's paintings is the picture cycle "Bajki dla dorosłych" (Fairy Tales for Adults). These works emerge on the basis of sketches, drawings, watercolors and graphics from the last years as well as topics returning from his childhood. Witticism and playfulness are interwoven with sadness and nostalgia in them, and they invite the grown-up observer to enter the world of fairy tales… for conversation, questions and at times surprising comments… Łozowski's creative work is above all a picture in which everybody can discover his truth, the one that lies hidden in the depth of the human subconsciousness as well as the one full of promises… Krzysztof Lozowski joined Society6 on November 1, 2016
More
KRZYSZTOF SYLWESTER LOZOWSKI is a freelance artist currently living in Warsaw. He was born in Sosnowiec in 1970. After finishing the State School of Fine Arts in Katowice he attended the Art College in Bielsko-Biała, where he pursued studies in Film Animation. To further his training he earned a degree in Visual Arts from the Education Academy in Katowice. From 1993 on, he studied painting and drawing at the Silesian University, Fine Arts department, and graduated in 1998.
He creates oil paintings, drawings, watercolors and posters. Among the artist's output there are also excellent cartoons of celebrities from the world of theater, music, politics and cabaret. His works have been presented in many individual and group exhibitions both in his country and abroad. In addition, his artworks can be found in private collections, for example in Germany, Great Britain, Switzerland, Norway, Belgium, Austria, France, Greece, the United States and Japan. He has been a member of the Association of Polish Artists since 2004.
According to critics, Łozowski's art, his oeuvre, is expressive. He uses in it a variety of rich techniques and manifold views on the world around him, from existential and gloomy ones to caricatures full of humor. He himself states, though, that "My art is myself, it is my silence in solitude (…) that allows me to exist, to hear what is inaudible, to see what is invisible… It is the eternal struggle to answer the question 'Who am I?' The unending cycle of pictures with different titles that delicately or at times courageously touch our conscience, our truth about ourselves. But the closer we get to ourselves, our ego – the more difficult it becomes… The picture becomes a joy in which time does not exist, in which reality and dreams blur lines".
An important benchmark, but at the same time a feature of Krzysztof Łozowski's paintings is the picture cycle "Bajki dla dorosłych" (Fairy Tales for Adults). These works emerge on the basis of sketches, drawings, watercolors and graphics from the last years as well as topics returning from his childhood. Witticism and playfulness are interwoven with sadness and nostalgia in them, and they invite the grown-up observer to enter the world of fairy tales… for conversation, questions and at times surprising comments… Łozowski's creative work is above all a picture in which everybody can discover his truth, the one that lies hidden in the depth of the human subconsciousness as well as the one full of promises…
Krzysztof Lozowski joined Society6 on November 1, 2016.