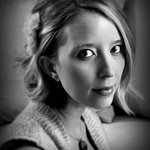 Katherine Smith
Hello and welcome!
Just a bit about me...A native to Northeast Ohio, I have been involved with the creative industry professionally since 2005, where I have worked at a marketing company that has provided an outlet for my creative energies and ideas. I graduated from the University of Mount Union with my Bachelors of Arts in Media Computing, Art and Business. My studies included various studio classes in printmaking, sculpture, drawing, design and art history, along with digital work in Photoshop, Illustrator, InDesign and Flash. I recently took a wheel throwing pottery class and fell in love with yet another medium to explore! I also ventured into freelance photography in 2011, starting a very dear side project, Katherine Smith Photography (www.KSmithPhotographs.com).
When I'm not taking part in life's most beautiful events with my clients, I enjoy organic gardening, running, shopping the CLE Flea and working on any types of creative projects. I am lover of nature and draw inspiration from being outdoors with my family, hiking, kayaking, biking or enjoying our Great Lake Erie. I currently reside in a suburb of Cleveland with my husband and our two children.
Thanks for stopping by!
Read more