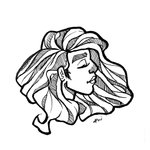 k10.designplus
The beauty of art is the volumes one can speak with so little. I'm a Graphic Designer/ Illustrator with a give no f*cks attitude, so if your feelin' that, welcome! Please peruse to your soul's content. Still curious? Check out my blog: https://kmworrells.wixsite.com/eudaimonia k10.designplus joined Society6 on May 3, 2016
More
The beauty of art is the volumes one can speak with so little. I'm a Graphic Designer/ Illustrator with a give no f*cks attitude, so if your feelin' that, welcome! Please peruse to your soul's content.
Still curious? Check out my blog: https://kmworrells.wixsite.com/eudaimonia
k10.designplus joined Society6 on May 3, 2016.