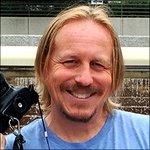 johnnykc
A creative framing of the world through good vibes, visual storytelling, fine art collage, photography and design. For as long as I can remember I have pursued the art of creating. From drawing Snoopy and Star Wars in elementary school, participating in art shows and studio art in high school, studying art and design in college and finally running my own graphic design business for 11+ years...the act of creativity through visual communication has been a passion throughout my life. This lifelong passion has lead me to my latest venture...Knell Studioworks: A studio that creates digital art mashups, visually rich photography, dynamic graphics and intricate collage art. The focus of the studio is varied and diverse...from the stylistic/visually complex art of the photo collage, to photographing the natural environments, wide open spaces and small towns of the heartland, the urban landscape of KC, the magical environment of Disney World and beyond. My vision is fueled by my varied interests which has, in turn, led me to a wonderfully colorful and vibrant palette from which to draw my work. The camera and computer are my canvas. I am passionate about the creative process and bringing my artistic voice forward and connecting to you through my work so I very much hope you enjoy browsing through my site. Please contact me with any questions, commissions or just to say "hello". I live in suburban KC with my wife, 2 kids, 2 cats, 2 dogs and too many lightsabers to count. johnnykc joined Society6 on February 2, 2016
More
A creative framing of the world through good vibes, visual storytelling, fine art collage, photography and design. For as long as I can remember I have pursued the art of creating. From drawing Snoopy and Star Wars in elementary school, participating in art shows and studio art in high school, studying art and design in college and finally running my own graphic design business for 11+ years...the act of creativity through visual communication has been a passion throughout my life.
This lifelong passion has lead me to my latest venture...Knell Studioworks: A studio that creates digital art mashups, visually rich photography, dynamic graphics and intricate collage art.
The focus of the studio is varied and diverse...from the stylistic/visually complex art of the photo collage, to photographing the natural environments, wide open spaces and small towns of the heartland, the urban landscape of KC, the magical environment of Disney World and beyond.
My vision is fueled by my varied interests which has, in turn, led me to a wonderfully colorful and vibrant palette from which to draw my work. The camera and computer are my canvas.
I am passionate about the creative process and bringing my artistic voice forward and connecting to you through my work so I very much hope you enjoy browsing through my site. Please contact me with any questions, commissions or just to say "hello".
I live in suburban KC with my wife, 2 kids, 2 cats, 2 dogs and too many lightsabers to count.
johnnykc joined Society6 on February 2, 2016.
johnnykc's Store
7 results
Filter