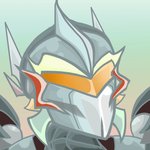 KnightFire
We are producing fun & inspiring designs for apparel. We plan on providing everyone with a place to purchase apparel for all your favorite things- from fandoms, to religion, to Sports teams. Stay tuned to be the first to get a hold of these items as they are released! :D Keep Creating! -KnightFire KnightFire joined Society6 on July 15, 2014
More
We are producing fun & inspiring designs for apparel.
We plan on providing everyone with a place to purchase apparel for all your favorite things- from fandoms, to religion, to Sports teams.
Stay tuned to be the first to get a hold of these items as they are released! :D
Keep Creating! -KnightFire
KnightFire joined Society6 on July 15, 2014.