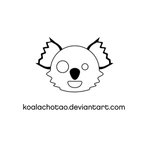 Koalachotao
Sometimes an idea grows in my mind, probably cute, probably insane, probably both,... so, why don't let you be a part of that by purchasing it? I hope you like my work.
Thanks and wellcome to Koalachotao's gallery.
---
A veces una idea se gesta en la mente, puede que adorable, o puede que alocada, incluso ambas... asique, ¿porqué no permitirte formar parte de ella adquiriéndola? Espero que te gusten mis trabajos.
Gracias y bienvenido a la galería de Koalachotao.
Read more