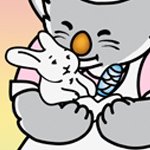 Koalita Shop
Koalita™ is a character and a registered trademark by Fabio Edoardo Natale Frau - copyright © 2002-2017 All Rights Reserved.
Koalita Webpage: http://fabiofrau.it/Koalita%20Website/index.html
Koalita Shop YouTube Channel: https://www.youtube.com/channel/UCBH4xJrmnfGbO1p4NFAPMPA/feed
PLEASE VISIT MY OTHER SHOP ON SØCIETY6: http://society6.com/fabiofrau
I'm a writer, painter, illustrator from Italy . Please visit my website www.fabiofrau.com for more informations about my books, artworks and many creative projects.
MY FANTASY NOVEL "TODROL"
(ENGLISH EDITION): http://www.amazon.com/Todrol-Fabio-E-...502522195/
(ITALIAN EDITION): http://www.amazon.it/Todrol-Fabio-E-N...50249129X/
MY PAINTING MANUAL "FANTASTIC REALISM"
(ENGLISH EDITION): http://www.amazon.com/Fantastic-Reali...50781691X/
(ITALIAN EDITION): http://www.amazon.it/Realismo-Fantast...507816979/
Read more
Koalita Shop 's Store
Filter