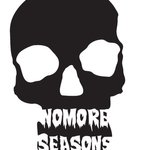 NO MORE SEASONS
In 2009 Kiwi artist KODIAKBLAIR began working as a Manny for autistic artist and future collaborator CRAFTCURTIN and his family. After seeing the raw talent possessed by this young man they decided to collaborate and established their brand NO MORE SEASONS in 2013 with a diverse mix of inspiration from the streets to the school yard and a outlet for CRAFTCURTIN to pursue his passion. We guarantee you will never see another label with such diverse graphic mix like us again. NO MORE SEASONS joined Society6 on April 3, 2016
More
In 2009 Kiwi artist KODIAKBLAIR began working as a Manny for autistic artist and future collaborator CRAFTCURTIN and his family.
After seeing the raw talent possessed by this young man they decided to collaborate and established their brand NO MORE SEASONS in 2013 with a diverse mix of inspiration from the streets to the school yard and a outlet for CRAFTCURTIN to pursue his passion.
We guarantee you will never see another label with such diverse graphic mix like us again.
NO MORE SEASONS joined Society6 on April 3, 2016.