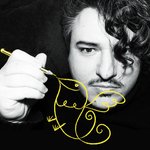 Koldo Barroso
I'm a multimedia artist and illustrator.
My works include:
-Imagination books -Surreal engravings -Magic realism paintings -Illustrations and album covers for Fusion, Jazz, Prog, Electronic and Experimental music artists.
I started working on album cover illustrations in late 80's. Eversince, I been involved in a bunch of music projects with jazz, experimental and progressive rock artists, including artists from bands like King Crimson, Emerson Lake & Palmer, Fairport Convention, No-Man, and Thinking Plague.
Read more
Prints by Koldo Barroso
Filter