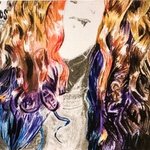 Frances May K
I like drawing. With black ink. Always looks cooler in black ink. Sometimes, I'm a bit daring and like to use markers and watercolours too. Tv, film, and music influences my art a lot. Draw what ever that comes into your head. Draw out your messed up dream you had the night before, that always looks rad. I live in Northfleet in he UK and love indie rock 'n' roll. Graphic Design Student. You have only to believe if you wish to achieve. That rhymed. Unintentional. - Rod Kimble Funky fresh. Frances May K joined Society6 on October 30, 2014
More
I like drawing. With black ink. Always looks cooler in black ink.
Sometimes, I'm a bit daring and like to use markers and watercolours too.
Tv, film, and music influences my art a lot.
Draw what ever that comes into your head. Draw out your messed up dream you had the night before, that always looks rad.
I live in Northfleet in he UK and love indie rock 'n' roll.
Graphic Design Student.
You have only to believe if you wish to achieve. That rhymed. Unintentional. - Rod Kimble
Funky fresh.
Frances May K joined Society6 on October 30, 2014.