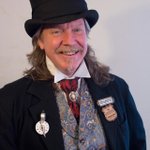 Killbuck
Thanks for visiting! I'm Killbuck a freelance artist with more than 40 years experience in painting, graphic design cartooning. My specialty is hand painting sideshow banners using traditional designs, colors and layouts. I do not copy old originals, but rather reinterpret original styles in my own way. I have created banners for shows, sideshow performers, collectors and retired show-folk, and have provided works around the US, Europe, Australia and Asia. https://kostoomarts.weebly.com/paintings-and-sideshow-art.html Killbuck joined Society6 on January 24, 2018
More
Thanks for visiting! I'm Killbuck a freelance artist with more than 40 years experience in painting, graphic design cartooning.
My specialty is hand painting sideshow banners using traditional designs, colors and layouts. I do not copy old originals, but rather reinterpret original styles in my own way. I have created banners for shows, sideshow performers, collectors and retired show-folk, and have provided works around the US, Europe, Australia and Asia.
https://kostoomarts.weebly.com/paintings-and-sideshow-art.html
Killbuck joined Society6 on January 24, 2018.