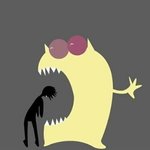 Tr. H
Trang H. Nguyen is a graphic designer currently based in Saigon, Vietnam. Her great adoration and ambition go to Nordic Design. She loves the cleanliness and simplicity as well as the use of colors and the harmony in each and every design bit that comes from the very far Northern Europe. With the roots from Asia and great influence from Japanese culture, Trang is trying to develop and mix in the style of Nordic and Asia. She is still in the learning of everything in life. Life is hard anyway. Trang often finds inspiration from daily life. Solitude is her joy but once in a while she enjoys a talk with your-unusually-extraordinary-boring people (probably on par with her). Visit her also at https://www.behance.net/nhvt Tr. H joined Society6 on April 30, 2013
More
Trang H. Nguyen is a graphic designer currently based in Saigon, Vietnam.
Her great adoration and ambition go to Nordic Design. She loves the cleanliness and simplicity as well as the use of colors and the harmony in each and every design bit that comes from the very far Northern Europe. With the roots from Asia and great influence from Japanese culture, Trang is trying to develop and mix in the style of Nordic and Asia. She is still in the learning of everything in life. Life is hard anyway.
Trang often finds inspiration from daily life.
Solitude is her joy but once in a while she enjoys a talk with your-unusually-extraordinary-boring people (probably on par with her).
Visit her also at https://www.behance.net/nhvt
Tr. H joined Society6 on April 30, 2013.