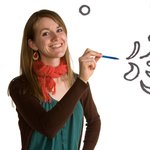 KPdesign
Hello! My name is Kaitlyn Parker, but you can call me KP. I am painter at heart who consequently evolved into a photographer and graphic designer. I love to combine hands-on media, such as painting and drawing, with the digital process. There is something about the touch, smell, and notion of paint and pencil - tangible materials - which digital methods can never replace. Additionally, I am fascinated with re-using and re-purposing 'trash' and recycled goods in my work as a way to make small, positive impacts on the environment and also challenge myself to create something desirable from something discarded. Amongst my most popular works are recycled pieces and my most recent exploration I call the "Drawing Meditation" style. The work is based upon a moment-to-moment concentration of each form and how it might progress and flow with each additional shape. Every drawing is completely unique. I like to think that the drawings decide how they will manifest themselves – I simply sit back, draw, and observe what unfolds. Examples of my capabilities include, but are not limited to: murals, fabric/textile paintings, graphic design, photography, custom paintings, card design, and a bit of web design. I'm available for commission and freelance. My work is also available for purchase - both originals and prints. Please feel free to contact me for further inquiries: info@kparkerdesign.net KPdesign joined Society6 on February 21, 2013
More
Hello! My name is Kaitlyn Parker, but you can call me KP.
I am painter at heart who consequently evolved into a photographer and graphic designer. I love to combine hands-on media, such as painting and drawing, with the digital process. There is something about the touch, smell, and notion of paint and pencil - tangible materials - which digital methods can never replace. Additionally, I am fascinated with re-using and re-purposing 'trash' and recycled goods in my work as a way to make small, positive impacts on the environment and also challenge myself to create something desirable from something discarded.
Amongst my most popular works are recycled pieces and my most recent exploration I call the "Drawing Meditation" style. The work is based upon a moment-to-moment concentration of each form and how it might progress and flow with each additional shape. Every drawing is completely unique. I like to think that the drawings decide how they will manifest themselves – I simply sit back, draw, and observe what unfolds.
Examples of my capabilities include, but are not limited to: murals, fabric/textile paintings, graphic design, photography, custom paintings, card design, and a bit of web design. I'm available for commission and freelance. My work is also available for purchase - both originals and prints.
Please feel free to contact me for further inquiries: info@kparkerdesign.net
KPdesign joined Society6 on February 21, 2013.
Canvas by KPdesign
81 results
Filter