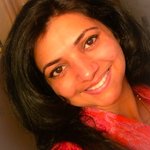 Shivani Sharma Khan
Shivani Sharma Khan is a freelance artist with a fascination for flowers. Her work varies in levels of intricacy & color. She is of the belief that there is nothing more beautiful than flowers, and hopes to spread that passion through her work. Prints, patterns and paintings, she enjoys all with any medium possible. It can be with a giant acrylic painting and layering color & texture to it or drawing free hand, or even with watercolors and then embellishing them with pen work. Freshness and the vibrance of flowers is reflected through all her art works. Shivani Sharma Khan joined Society6 on June 17, 2014
More
Shivani Sharma Khan is a freelance artist with a fascination for flowers. Her work varies in levels of intricacy & color. She is of the belief that there is nothing more beautiful than flowers, and hopes to spread that passion through her work.
Prints, patterns and paintings, she enjoys all with any medium possible. It can be with a giant acrylic painting and layering color & texture to it or drawing free hand, or even with watercolors and then embellishing them with pen work. Freshness and the vibrance of flowers is reflected through all her art works.
Shivani Sharma Khan joined Society6 on June 17, 2014.