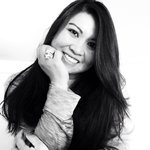 Krischelle Nielsen
Krischelle was born in the islands and raised in Southern California. Her love of arts and music comes from her mother, who was a Tahitian Dancer/Teacher, and now owns a small craft business in San Clemente, California... and her father, who was a carpenter, musician, and artist. Krischelle lives with her husband of 9 years in Southern California with their 2 dogs, Coco and Bella. When she is not drawing or painting, she enjoys playing the guitar, skateboarding, photography, and crafts. Krischelle Nielsen joined Society6 on September 12, 2014
More
Krischelle was born in the islands and raised in Southern California. Her love of arts and music comes from her mother, who was a Tahitian Dancer/Teacher, and now owns a small craft business in San Clemente, California... and her father, who was a carpenter, musician, and artist.
Krischelle lives with her husband of 9 years in Southern California with their 2 dogs, Coco and Bella. When she is not drawing or painting, she enjoys playing the guitar, skateboarding, photography, and crafts.
Krischelle Nielsen joined Society6 on September 12, 2014.