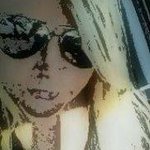 kris Eldridge
Born in Holbrook Massachusetts Kris Eldridge enjoys kayaking, gravel grinding , and bicycling woodland trails. Kris is eccentric, creative, and energetic. A New Hampshire military wife and military mother caring for special needs foster children while attending College. Kris graduated at the age of 36 with a degree in Psychology. Unable to dedicate the funds or time to her art until the kids were grown. Her supportive husband reignited her creativity when he sent a care package to her of an easel and acrylics paints while he was deployed to Afghanistan. The artistic outlet and consuming passion of painting rejuvenated her. In painting Kris found not only her passion and release, she found her talent and love. Kris maintains her passion for community and nonprofit organizations, donating pieces of art to organizations and fundraisers whenever requested. Working with acrylics, gravitating towards contemporary, abstract and/or textured painting. A wide range of works that are solely commissioned, she has an artist eye to capture her clients desire, ranging from a sketch in the old world masters form or an modern painting of a current comic book hero. Often listening to music fitting to the piece as she paints. Occasionally painting a piece for self as pure passion expressed. Kris's joy is each persons comments and own interpretation of her abstract pieces. Location: Southern New Hampshire Style: contemporary representational, abstract, mixed media Affiliations: North Light Shop. My Design. deviantART. Shop Exhibitions and Competitions: Anatomy Of Fear- Book illustration Werewolf anthology. USO Kandahar Afghanistan- 2 pieces on exhibit, 1 piece donated to the troops. Feel free to visit my Face Book and Web Site @ Web Site :http://emailkrishere.wix.com/artbyeldridge FaceBook: www.facebook.com/ArtByEldridge To order your custom made painting or read testimonials- Kris kris Eldridge joined Society6 on April 5, 2014
More
Born in Holbrook Massachusetts Kris Eldridge enjoys kayaking, gravel grinding , and bicycling woodland trails. Kris is eccentric, creative, and energetic.
A New Hampshire military wife and military mother caring for special needs foster children while attending College. Kris graduated at the age of 36 with a degree in Psychology.
Unable to dedicate the funds or time to her art until the kids were grown. Her supportive husband reignited her creativity when he sent a care package to her of an easel and acrylics paints while he was deployed to Afghanistan. The artistic outlet and consuming passion of painting rejuvenated her.
In painting Kris found not only her passion and release, she found her talent and love. Kris maintains her passion for community and nonprofit organizations, donating pieces of art to organizations and fundraisers whenever requested. Working with acrylics, gravitating towards contemporary, abstract and/or textured painting.
A wide range of works that are solely commissioned, she has an artist eye to capture her clients desire, ranging from a sketch in the old world masters form or an modern painting of a current comic book hero. Often listening to music fitting to the piece as she paints. Occasionally painting a piece for self as pure passion expressed. Kris's joy is each persons comments and own interpretation of her abstract pieces.
Location: Southern New Hampshire Style: contemporary representational, abstract, mixed media Affiliations: North Light Shop. My Design. deviantART. Shop Exhibitions and Competitions: Anatomy Of Fear- Book illustration Werewolf anthology. USO Kandahar Afghanistan- 2 pieces on exhibit, 1 piece donated to the troops.
Feel free to visit my Face Book and Web Site @ Web Site :http://emailkrishere.wix.com/artbyeldridge FaceBook: www.facebook.com/ArtByEldridge
To order your custom made painting or read testimonials- Kris
kris Eldridge joined Society6 on April 5, 2014.
kris Eldridge's Store
80 results
Filter