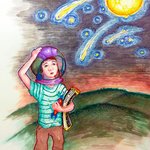 Krista Lindbo
Illustrator. I work predominately with drawing materials such as pencils and ink, using watercolors to paint. I try to balance traditional and digital work, recognizing the benefits both areas have to offer. Since recently graduating high school, I currently work every day towards improving my creative and technical skills in the continuous effort to produce a better portfolio. My ultimate career goal is set at becoming a freelance illustrator, along with producing various personal projects. Please feel free to contact me with any comments or questions about my store or work. Krista Lindbo joined Society6 on March 4, 2014
More
Illustrator. I work predominately with drawing materials such as pencils and ink, using watercolors to paint. I try to balance traditional and digital work, recognizing the benefits both areas have to offer. Since recently graduating high school, I currently work every day towards improving my creative and technical skills in the continuous effort to produce a better portfolio. My ultimate career goal is set at becoming a freelance illustrator, along with producing various personal projects.
Please feel free to contact me with any comments or questions about my store or work.
Krista Lindbo joined Society6 on March 4, 2014.