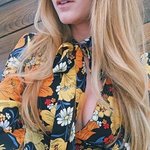 Kristen Elise
ARTIST - TEACHER - LOVER - - - - - - - - - - - - - - - - - - - - - - - - - - - - - - - - - - - - - - - - - - - - - - - - - - - - - - - - - - - - - - - - - - Specializing in analog collage and woven textiles. Born in Canada and raised in the Midwest. Full-time high school art educator. - - - - - - - - - - - - - - - - - - - - - - - - - - - - - - - - - - - - - - - - - - - - - - - - - - - - - - - - - - - - - - - - - - Rhode Island School of Design | Master of Arts in Teaching | Art + Design Education Kansas City Art Institute | Bachelor of Fine Arts | Textiles + Art History Kristen Elise joined Society6 on June 21, 2016
More
ARTIST - TEACHER - LOVER
---
Specializing in analog collage and woven textiles. Born in Canada and raised in the Midwest. Full-time high school art educator.
---
Rhode Island School of Design | Master of Arts in Teaching | Art + Design Education
Kansas City Art Institute | Bachelor of Fine Arts | Textiles + Art History
Kristen Elise joined Society6 on June 21, 2016.
Kristen Elise's Store
56 results
Filter