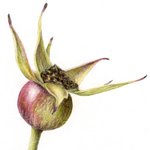 Kristen Johns
Kristen lives in a small Canadian city in a quiet 100 year old house and is fascinated by nature's beauty. She uses coloured pencils, watercolour and acrylic paint to capture the wisdom and grace of the plants, trees, and seeds that surround our lives, feed us, and give us comfort. She spends her days raising her family, making art and gardening – each one inspiring the other. See more of her work at www.kristenjohns.com. Kristen Johns joined Society6 on November 19, 2012
More
Kristen lives in a small Canadian city in a quiet 100 year old house and is fascinated by nature's beauty. She uses coloured pencils, watercolour and acrylic paint to capture the wisdom and grace of the plants, trees, and seeds that surround our lives, feed us, and give us comfort. She spends her days raising her family, making art and gardening – each one inspiring the other.
See more of her work at www.kristenjohns.com.
Kristen Johns joined Society6 on November 19, 2012.
Tech by Kristen Johns
34 results
Filter