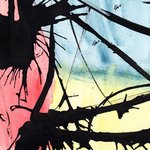 kristen reinhart
My painting style evokes movement and chance decisions. It's my own crafted form of meditation and at the same time, freedom. I begin with a defined palette of colors, but that's where the planning ends and the intuition begins. I put brush to paper in broad strokes using my less dominant hand, to ensure trust in an unknown outcome and to be sure I'm locked in the moment. After the color is applied I employ the use of india ink and then air to move the dark pigment in a randomly deliberate fashion creating further movement and emotion. It is only after the piece is complete I take a long look to see if anything is readily familiar and then choose from my saved list of names. These names include phrases, song lyrics and momentary thoughts. Original paintings created on watercolor paper using watercolor inks and india ink. kristen reinhart joined Society6 on July 14, 2015
More
My painting style evokes movement and chance decisions. It's my own crafted form of meditation and at the same time, freedom.
I begin with a defined palette of colors, but that's where the planning ends and the intuition begins. I put brush to paper in broad strokes using my less dominant hand, to ensure trust in an unknown outcome and to be sure I'm locked in the moment. After the color is applied I employ the use of india ink and then air to move the dark pigment in a randomly deliberate fashion creating further movement and emotion.
It is only after the piece is complete I take a long look to see if anything is readily familiar and then choose from my saved list of names. These names include phrases, song lyrics and momentary thoughts.
Original paintings created on watercolor paper using watercolor inks and india ink.
kristen reinhart joined Society6 on July 14, 2015.
kristen reinhart's Store
66 results
Filter