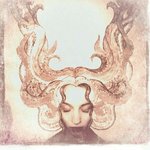 Kubi May
Kubi May lives on a canalboat with her best friend, Ruben Ireland (and two chihuahuas!) where they spend their time as two artists creating art and embracing a bohemian lifestyle in London. She is a poet of life-magic, a wand-maker and a bohemian collage Artist with a passion for copper glitter and Indian Fabrics... 'Using an Autumnal palette, Kubi May depicts her world of bohemian animals, demi-gods and deities which are born from indian fabrics, coffee stains, copper and rustic brass trinkets from lands far and wide. Her work invites you into a world of glittery (although often fierce) alchemy, set in the golden hour on the edges of dusk and nightfall. Though Kubi's work sits comfortably in a parallel world of magic, she explores subjects such as the mysticism behind pop culture, asking the viewer to challenge aspects from their own nostalgic society. Additionally, her work extends out into our own physical world through her handcrafted energy-charged Reiki wands; sculpted from earthly resins, beautiful crystals and tree branches.' > Website: http://citybohemia.blogspot.co.uk/ > Follow her Artwork on Facebook: http://www.facebook.com/kubimaycrafts > Follow her Artwork on Instagram: http://www.instagram.com/kubi_bohemian_crafts To follow Kubi and Rubens City Bohemian Adventures: http://www.facebook.com/Soul.at.play http://www.instagram.com/city_bohemia CONTACT: Contact Kubi for commissioned work/ interviews: kubimay@gmail.com Kubi May joined Society6 on September 27, 2016
More
Kubi May lives on a canalboat with her best friend, Ruben Ireland (and two chihuahuas!) where they spend their time as two artists creating art and embracing a bohemian lifestyle in London. She is a poet of life-magic, a wand-maker and a bohemian collage Artist with a passion for copper glitter and Indian Fabrics...
'Using an Autumnal palette, Kubi May depicts her world of bohemian animals, demi-gods and deities which are born from indian fabrics, coffee stains, copper and rustic brass trinkets from lands far and wide. Her work invites you into a world of glittery (although often fierce) alchemy, set in the golden hour on the edges of dusk and nightfall. Though Kubi's work sits comfortably in a parallel world of magic, she explores subjects such as the mysticism behind pop culture, asking the viewer to challenge aspects from their own nostalgic society. Additionally, her work extends out into our own physical world through her handcrafted energy-charged Reiki wands; sculpted from earthly resins, beautiful crystals and tree branches.'
Website: http://citybohemia.blogspot.co.uk/
Follow her Artwork on Facebook: http://www.facebook.com/kubimaycrafts
Follow her Artwork on Instagram: http://www.instagram.com/kubi_bohemian_crafts
To follow Kubi and Rubens City Bohemian Adventures: http://www.facebook.com/Soul.at.play http://www.instagram.com/city_bohemia
CONTACT: Contact Kubi for commissioned work/ interviews: kubimay@gmail.com
Kubi May joined Society6 on September 27, 2016.