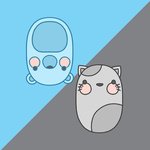 kukomise
Ku and Ko want to meet but they cant. Why? Because the creator says NO! The name kukomise means kuko shop in japanese. Kuma means bear in japanese and neko means cat. By combining the KU in kuko and the KO in neko the word kuko is created to make KUKOMISE! Join these little critters on their silly adventures! Will they meet someday? Instagram: @kukomise kukomise joined Society6 on October 5, 2016
More
Ku and Ko want to meet but they cant. Why? Because the creator says NO!
The name kukomise means kuko shop in japanese. Kuma means bear in japanese and neko means cat. By combining the KU in kuko and the KO in neko the word kuko is created to make KUKOMISE!
Join these little critters on their silly adventures! Will they meet someday?
Instagram: @kukomise
kukomise joined Society6 on October 5, 2016.