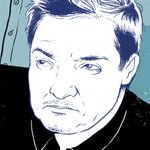 Kyle Hilton
I'm an illustrator from Jackson, MS, working for various print and online publications such as The New York Times, TIME Magazine, New York Magazine, Vulture.com and others. Here you can find a series of paper dolls that I create based on my favorite tv and film characters, updated semi-regularly. To see other work, visit www.theispot.com/khilton Kyle Hilton joined Society6 on September 14, 2012
More
I'm an illustrator from Jackson, MS, working for various print and online publications such as The New York Times, TIME Magazine, New York Magazine, Vulture.com and others.
Here you can find a series of paper dolls that I create based on my favorite tv and film characters, updated semi-regularly.
To see other work, visit www.theispot.com/khilton
Kyle Hilton joined Society6 on September 14, 2012.
Kyle Hilton's Store
9 results
Filter