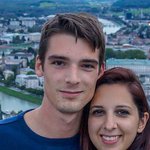 Kylerg
I'm a self taught artist living in Florida, USA. Haven't been painting long, only 2 years now. It's a real passion of mine that I'm investing a great deal of effort and time into. Taking 6 months off to live in Rome,Italy and focus on painting among other things. Kylerg joined Society6 on July 8, 2014
More
I'm a self taught artist living in Florida, USA. Haven't been painting long, only 2 years now. It's a real passion of mine that I'm investing a great deal of effort and time into.
Taking 6 months off to live in Rome,Italy and focus on painting among other things.
Kylerg joined Society6 on July 8, 2014.