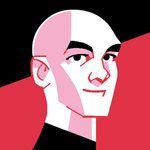 Kyle T Webster
Kyle T. Webster has illustrated for most major publications in the United States. His artwork has appeared on beer bottles, music posters, billboards, apparel, buildings, banners, doughnut boxes, magnets and buttons, menuboards, wine bottles and wine glasses, people's skin, book covers, and even in the form of a giant corn maze.
Kyle is currently working on three comic book projects, a children's book, several iPhone games, numerous logos, and lots of magazine, book, and advertising illustrations. He teaches at the renowned University of North Carolina School of the Arts, and he has given lectures and demos in the U.S. and Canada. In 2012, he served on the board of ICON: The Illustration Conference.
Fun Facts: Kyle is fluent in French, has trained for six months with a world-class card magician, is an advanced origami folder, plays too much tennis, was married in Italy, has ridden a camel, is obsessed with Tintin and Hellboy, and he does a spot-on Mickey Mouse impression.
Read more
Outdoor-lifestyle by Kyle T Webster
1 result
Filter
Department

Dept

Outdoor & Lifestyle