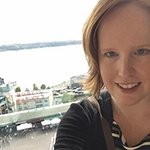 Kym Orr
Growing up, I loved Swatch watches, cartoon animals, toys -- all things bold and graphic. And not much has changed. I like to play with color and shape to create patterns and images that are vibrant but simple. I am a surface pattern designer, a graphic designer, and an illustrator living in the Seattle area. Kym Orr joined Society6 on March 23, 2010
More
Growing up, I loved Swatch watches, cartoon animals, toys -- all things bold and graphic. And not much has changed. I like to play with color and shape to create patterns and images that are vibrant but simple.
I am a surface pattern designer, a graphic designer, and an illustrator living in the Seattle area.
Kym Orr joined Society6 on March 23, 2010.